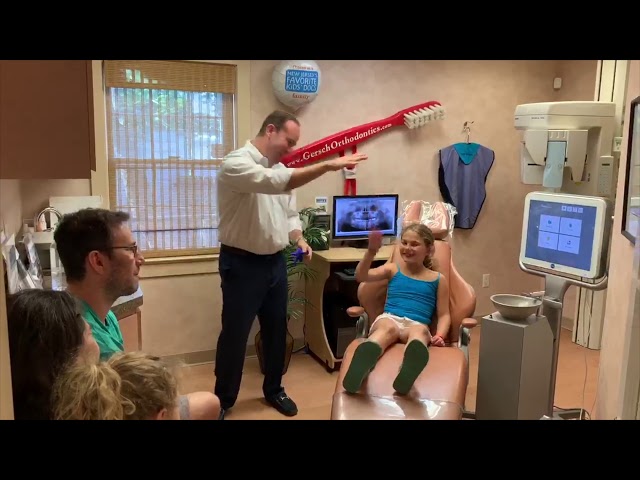 A BEAUTIFUL SMILE IS JUST
A PHONE CALL OR CLICK AWAY
(908) MY ORTHO
(908) MY ORTHO
A BEAUTIFUL SMILE IS JUST
A PHONE CALL OR CLICK AWAY
WELCOME TO
GERSCH ORTHODONTICS!
For over 40 years, Gersch Orthodontics has been the premier practice for orthodontics in New Jersey. Drs. Scott Gersch, Stan Gersch and Ilona Rossignol combine outstanding service with advanced techniques & technology for a caring, patient-friendly approach. We get to know every patient personally, and our friendly, experienced staff makes everyone feel at home. We treat all ages (children, teens and adults) and multiple generations of families!
Gersch Orthodontics is the region's largest Invisalign® and Invisalign Teen® practice, having treated more than 5,000 cases! We are an Elite Top 1% Diamond Plus Invisalign Providers, and we also offer Lingual Braces, Self-Ligating Braces, Invisible Ceramic Braces, and Colorful Appliances. Our inviting, modern and family-friendly offices offer state-of-the-art technology, digital impressions (no more goop!) and digital imaging, all leading to shorter treatment times and fewer visits. Evening and weekend appointments are available for commuters and busy families. 
We invite you to contact our offices in Westfield, Cranford or Linden to schedule a Complimentary Consultation for Braces or Invisalign! Start your journey to a beautiful smile with Gersch Orthodontics today!
WHAT SETS US APART
It is our mission to provide the very best orthodontic and personal experience to every adult, adolescent, and child. At Gersch Orthodontics, we are committed to creating healthy, beautiful smiles in an enjoyable, caring, and energetic atmosphere, while placing an emphasis on meticulous service and quality care for our entire orthodontic family. We consistently strive to provide the finest and most technologically advanced orthodontic care to each person we serve. We consider it to be an honor and a privilege to treat our patients and their families with love, compassion, and ultimate respect. We truly enjoy what we do—creating generations of smiles!
We welcome you to our family!
OUR
SERVICES
As THE trusted authorities for leading-edge orthodontics, our practice invests the time and resources necessary to offer the best in modern orthodontic care.
DIAMOND PLUS INVISALIGN PROVIDERS
We are proud to be the LARGEST and MOST EXPERIENCED provider of Invisalign in the area. As Invisalign Diamond Plus Providers, we treat more Invisalign patients than anyone else in the region and consistently rank in the Top 1% Nationwide!
DR. ILONA ROSSIGNOL
Dr. Rossignol loves being an orthodontist and creating beautiful smiles. She especially enjoys developing a close connection with her patients and their families while watching the transformation not only in her patients' smiles, but also in their overall attitudes and confidence.
DR. STANLEY GERSCH
Dr. Stanley Gersch and his team at Gersch Orthodontics strive to provide excellent patient care and the highest quality orthodontics in a personable and comfortable atmosphere. A past president of the New Jersey Association of Orthodontists, Dr. Gersch has been delivering outstanding orthodontic care to children and adults in the Union County area for more than 30 years.
I would recommend Gersch Orthodontics to anyone who wants outstanding results in a warm and caring, yet professional environment. My son's smile is even more beautiful, thanks to Drs. Stanley and Scott Gersch!
Michael A.
I would highly recommend Dr. Gersch, Dr. Rossignol and their entire staff for your orthodontic needs. I thought my only option to correct my bite was jaw surgery, which was recommended by another orthodontist in town. Thankfully, Dr. Gersch informed me that I could fix my bite without jaw surgery using Invisalign. He even made sure to expedite the process so that I'd be happy with my smile by the time my wedding happened. It feels strange going to an orthodontist as an adult,
but I always felt comfortable at their Westfield and Cranford offices. Thank you (and your entire staff!) so much for all that you did for me. I am beyond satisfied with Gersch Orthodontics and would recommend them to anyone in the area.
Elizabeth K.
I'd been told by another orthodontist that it would be impossible to straighten my very crowded, adult teeth without braces. Thankfully for me, the real issue was finding the right Invisalign professionals, and I am loving the results. I also very much appreciate that Drs. Gersch are completely committed to a perfect result, using their own creative, custom solutions in addition to Invisalign to get there without additional cost to me. Beyond all this, whenever I go to the office or even call on the phone, I'm recognized by name and treated like an old friend by everyone in the office, making the entire experience superior to almost any other doctor's visit, personally and professionally. I have and will continue to recommend them to friends, family, and colleagues in the area.
Ida W.
You will not find a more professional and down-to-earth dental practice than Gersch Orthodontics. Everyone in the office is friendly … ALWAYS. Drs. Stan and Scott have incredible credentials … they are the best at what they do, not only in our area, but among the best in the nation. Top that off with a caring spirit, and you have a winning combination. Whenever I've emailed with questions, Drs. Stan or Scott have quickly replied. I can't praise this orthodontic team enough.
Barbara W.
I can't say enough great things about Gersch Orthodontics! My daughter just had her braces off and the results are truly perfect. The doctors are extremely nice, super kid-friendly and parent-friendly as well. They are patient with all of our questions. The office staff is welcoming and easy to deal with. The entire team always makes each appointment easy and fun. We couldn't be happier with Gersch Orthodontics.
Yves S.
Gersch Orthodontics is the best! My daughter has dental anxiety and we went for a few different consults before we found the right orthodontist! They are so thorough and kind, and we felt right at home at this office. The assistants and staff are also very sweet. My daughter needed an expander and they were able to make the appliance digitally so that my daughter didn't need an impression (which is great, because she has a sensitive gag reflex!) Then, Dr. Rossignol followed up after the appointment to make sure she was doing well. So nice! We are so happy with our
treatment at this office!
Jenn R.
Highly recommend Gersch Orthodontics! My general dentist says my bite is now perfect and compliments my teeth all the time. The staff is warm and friendly and always accessible, and Drs Gersch and Dr. Rossignol are wonderful. I would not go to any place else!
Susan G.
Both of my daughters have had braces from this business. My first daughter had the Dad (Stanley) and then he brought his son into the office (Scott). Both are very friendly and skilled men. The women who run the desk are very nice and they have been very helpful in working out financial agreements that are manageable. All of the financial arrangements are done in a private office. The office itself is very modern and beautiful! My daughters love the little 'goody bag' they each got when they got their braces on, and they still wear their 'frog with braces' T-shirt!
Emma H.
My experience at Gersch Orthodontics has been an incredible and unforgettable one. Everyone is very nice and they make it a priority to make you feel very comfortable and help you with anything you need. I thank Dr. Gersch, Dr. Rossignol and their wonderful team for helping me through my journey. I am truly grateful for everything they have done for me. It has been 2 years now and words cannot describe how excited I am that my smile is beautiful and complete. If anyone ever needs an orthodontist, I highly recommend Gersch Orthodontics. The experience is very well worth it!
Mari. C.
From the second I walk through the door, I am greeted with a welcoming 'Hello. How are you?' which not only shows that the staff is professional, but kind-hearted as well. The staff really tries to get to know you, and treat you more than just a patient. That being said, I would most definitely recommend Drs. Stanley and Scott Gersch to anyone who is considering getting braces.
Timothy
From the day I stepped in to your office I've been taken care of very nicely. You can see that you care about your patients, both children and adults! You guys both have your specialties, and will never lose them! Thank you!
Charlotte G.
When I was teaching third grade Dr. Gersch came to speak to my class. After a brief conversation I knew that this was the place to go for Invisalign! I recommend Gersch Orthodontics to everyone!
Kenny K.
I have been very impressed with the time and care taken with each of us to explain the treatment and understand our goals for the outcome. I was especially pleasantly surprised when I received a call at home from Dr. Gersch the day after I received my braces to make sure everything was going well. Great personal touch!
Pamela R.
I like how Dr. Gersch schedules appointments around my school days because I hate to miss any school; and he's never so busy that I have to wait long. We have been to both offices and they are both clean, cheery, and welcoming. All of the staff members are very friendly, knowledgeable, and helpful. Nobody is ever too busy to talk to you or help you.
Caroline M.
Having come to the end of my several-year association with the Drs. Gersch, I can attest to the professionalism and quality care consistently provided. The doctors have been responsive to my needs, and their staff has succeeded in creating a comfortable, trusting environment which is conducive to the happy ending I was able to attain. My Invisaligns worked beautifully! I couldn't be happier. Thanks, Drs. Gersch and staff!!
Lorraine M.
It is very rare that you go to a doctor's office and get treated as well as you do at Dr Gersch's office. Everyone is pleasant from the moment you pick up the phone to the time that you leave the office after an appointment. The doctors are knowledgeable and caring and they truly listen to what the patient wants. The fact that you never have to wait is an added bonus! Our family is very happy here and would recommend them to all our family and friends!
Anonymous
I love the atmosphere of everything. And have told all my friends to go there for braces.
Olivia D.
You make an appointment with Gersch Orthodontics office because you want to make improvements to your smile; you stay because of the outstanding service! It is a great experience to walk in and be met with great service from friendly and helpful staff who are not ever too busy to share their smiles with the customers. Great environment, helpful and knowledgeable staff. I would highly recommend it to anyone.
Claudia S.
Environment was friendly and professional and the doctor was great met my expectations. Would recommend to family and friends.
Beatrice
The Drs. Gersch are outstanding professionals and the level of attention and care is exceptional. When other orthodontists said my daughter wouldn't be a good candidate for Invisalign, Dr. Gersch explained clearly why she would be. The results are amazing and we are all extremely pleased. In addition to being consummate professionals, they and their staff really care for their patients — the office is always a pleasant place to be. Now, how many dentists' offices are associated with such positive experiences?! They are truly in a class by themselves.
Bill Y.
We are so happy we chose Gersch Orthodontics for my son's unbelievably crooked teeth!! Without extraction or pain, his smile is beautiful! The office is spotless, the staff is SO great–helpful and kind–we smile every time we drive by the office! Thanks!! 🙂
Dea L.
Excellent service by the doctors + a helpful and pleasant staff = great results!
Luci W.
Great assistants, great office, and amazing results.They know what they're doing!
Tyler Z.
My husband and I have been coming to Gersch Orthodontics over the past year for Invisalign. I chose Gersch Orthodontics after reading about them in New Jersey Monthly in the Top Dentists issue and because of their extensive experience and education. They are both Invisalign ELITE Premier Providers (less than 1% of Invisalign providers hold this distinction) and this was important to me.
Diane E.
Gersch has the nicest people and it's great for kids my age.
Trey P.
Great office atmosphere, kind and caring staff, friendly doctors. What else would anyone ask for???
Lisa M.
Both of the dentists as well as the staff are very good at their job. They are very kind, friendly, and they make you feel comfortable in every stage that you go through. This is the place to go to get braces or Invisalign. I definitely would recommend this to all my friends and family. They always run on time and every staff member greets you with a smile. It's a nice place to go.
Andrew C.
Both the doctors as well the staff are excellent in their job, very friendly, listening and make you comfortable in every single visit. Definitely would recommend to family and friends.
Kiru T.
Gersch Orthodontics was a great place to be even if I didn't have the greatest of teeth. Both Dr. Gersches were amazing; even the entire staff was always considerate and kind. I would not be as happy as I am without the lot of you. Thank you all.
Conal D.
To be honest, I can't even describe in words how amazing it is and how grateful I am to be a patient of Gersch Orthodontics. First of all, whenever I walk into the office I am filled with happiness and satisfaction. Also, I am not worried about my teeth since I am under the care of such a professional orthodontist and their team members. Not only that, but a visit to their office is very pleasing.
Mikolaj B.
This is a very nice place; when I walk in the door, the staff always greets me for my appointments. I don't need to wait months to get on a waiting list. I LOVE this place 🙂 Come here.
Madyson P.
I personally really like this orthodontist. They are so gentle and kind.
Eryk L.
I love this office. They always run on time and every staff member greets you with a smile. The Drs. Gersch have made my daughter very comfortable through this whole process. So glad we chose them.
Kristin C.
The staff at Gersch Orthodontics makes you feel right at home and make it a 100% comfortable/pleasant experience. It's only because they actually care for you. I love my teeth! and ohh did I say I LOVE MY TEETH! haha. As soon as you're done with your appointment, you're sent to make your next appointment and if you just so happen to not know when you have time, Gersch Orthodontics will email you or just tell you to call them and schedule one. I've been going there since i was little and they never seem to disappoint. I highly recommend this place to anyone in need of a wonderful smile.
Chris R.
The staff is very friendly, highly knowledgeable, and extremely organized. They never keep you waiting long for your appointment. They also work with you to schedule your next appointment for whenever is convenient for you. In short, they are wonderful and professional. Highly recommended.
Aaron B.
My teeth are spectacular! I have a million-dollar smile, thanks to Dr. Gersch. They have an awesome team. Thank you, thank you, thank you, thank you.
Myra M.
Gersch Orthodontics is wonderful! Both doctors are great and my boys love going. Everyone is always friendly and so supportive. The doctors and staff are terrific. If you want a perfect smile in a friendly atmosphere, then Gersch Orthodontics is the place to be!
Kathie S.
I was referred by my dentist of over 25 years to Gersch Orthodontics and I trusted she would only send me to the best place for braces and she didn't fail me. They are very professional & friendly. 🙂
Elaine R.
Dr. Gersch, Dr. Rossignol and their staff have been amazing! From my initial consultation on Invisalign to our scheduled appointments, they all have been professional, warm, thorough and  friendly. If that wasn't enough, this practice provided us with the best value for Invisalign. My teeth are looking great and I couldn't be happier. My son just started his Phase I treatment here too and is so excited!
Anna C.
Contact Us / REQUEST A COMPLIMENTARY EVALUATION

WESTFIELD
547 EAST BROAD STREET
WESTFIELD, NJ 07090
(Across from the
Westfield Library)

LINDEN
401 NORTH WOOD AVE,
LINDEN, NJ 07036
(Across from the
Linden Post-Office)

CRANFORD
118 NORTH AVE WEST
CRANFORD, NJ 07016
(Next to the
Cranford Citgo Station)